Donation of linguist, dialect researcher Elfrida Smite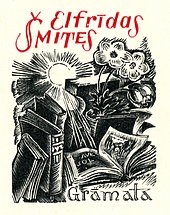 Ex-libris of E. Smite.
The book heritage of Elfrīda Šmite (1909-1989) was gifted to the Library in 1990, by her relative Amālija Pēterēns. The content of this collection was stored up during the lifetime of the linguist and it consists of 594 items on various fields of science.
E. Šmite studied in the History department of the Faculty of Philology and Philosophy of the University of Latvia, later changing to the Department of Baltic Philology and became a linguist and dialect researcher of Latvian language. She worked in the Archives of Latvian Language of the Ministry of Education, where she was the assistant to the senior archivist and later held a post of senior research associate at the Latvian Language and Literature Institute of the Latvian SSR Academy of Sciences. E. Šmite defended a candidate dissertation on the subject of dialects "Vidus un lībisko izlokšņu saskare Dauguļos".
The most represented fields in this donation are linguistics, literature research but it also includes items on folklore, history and fiction and editions dedicated to research of Latvian regions, Riga and Baltic history. Part of the editions are devoted to Lithuanian linguistics and notable linguists. Editions in the collection are in various languages and many books are decorated with the ex-libris of E. Šmite.