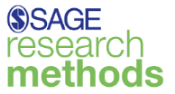 Connect to the database from the UL Connect to the database outside the UL
SAGE Research Methods (SRM) is an online learning tool for students and researchers interested in improving their knowledge in scientific methodology. It is a vast resource with more than 1000 books, reference works, articles and instructional videos with academics from across the social science field. University of Latvia users have access to the following SRM parts – Books and Reference and Cases.
SAGE Research Methods Books and Reference product contains a huge number of SAGE's books and reference content on the subject of Research Methods. This includes famous Little Green Books, aka the Quantitative Applications in the Social Sciences series, as well as Little Blue Books, Handbooks and Major Works. Reference works include SAGE world class dictionaries and encyclopedias. In addition to this, it provides a group of videos with some of the top research methods scholars in the world. SAGE adds titles to SAGE Research Methods each year, of various content types, this normally happens for the beginning of each year.
SAGE Research Methods Cases are stories of how real research projects were conducted. The collection provides more than 1100 case studies, showing the challenges and successes of doing research, written by the researchers themselves. They explain why the researchers chose the methods they did, how they overcame problems in their research and what they might have done differently with hindsight: the realities of research that are missing from journal articles and textbooks. Cases are peer-reviewed and come with pedagogical tools including learning objectives and discussions questions. They can be used as a teaching tool to demonstrate a particular method and how it is applied in real research, or as inspiration to students who are preparing for their own research project.
The Methods Map – a tool designed to help to understand how method concepts relate to one another. The map has an entry for every method concept in SAGE Research Methods. It shows the definition of that term, and provides a link to the content on that subject. To the left of the term are any broader concepts related to the term, and to the right are any narrower concepts related to the term. There are also sometimes related terms below the selected entry. Clicking on a particular concept makes that concept central on the page, and shows broader, narrower and related terms for that particular concept. This is all done in a visual way, that will help users understand the world of research methods more easily.
More information about Sage Research Methods on the EIFL webpage
Ask your question to a consultant at the Library of the UL!
Your feedback is essential to evaluate the need for this e-resource!