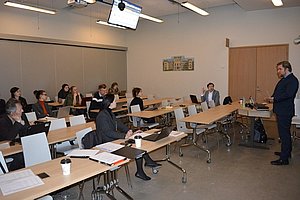 Latvijas Universitātes (LU) Bibliotēka sadarbībā ar kompāniju Clarivate Analytics 28.martā LU Dabaszinātņu akadēmiskajā centrā organizēja semināru par zinātnisko sasniegumu mērīšanas principiem un datubāzi Web of Science.
Semināru "Web of Science un InCites. Bibliometrija un zinātnes sasniegumu analīze, pārvaldība" (Web of Science & inCites. Bibliometrics and Research Analyse and Management) vadīja kompānijas Clarivate Analytics pārstāvis Marčins Kapčinskis (Marcin Kapczyński). Seminārā pulcējās dalībnieki no akadēmiskā, zinātniskā un administratīvā personāla, kā arī doktorantūras studenti.
Clarivate Analytics pārstāvis semināru sāka ar īsu ieskatu bibliometrijas rašanās vēsturē, tās nozīmi zinātnē un zinātnisko sasniegumu vērtēšanā. M.Kapčinskis pievērsa semināra dalībnieku uzmanību principiem, kas nosaka rādītāju aprēķināšanu, ilustrējot stāstījumu ar konkrētiem dažādu situāciju piemēriem zinātnisko sasniegumu salīdzināšanā. Semināra gaitā Clarivate Analytics pārstāvis demonstrēja platformas Web of Science būtiskākās nianses datu atlasē. Vienlaikus viņš iepazīstināja arī ar rīku InCites, kas ļauj analizēt pētnieciskās iestādes produktivitāti, atsevišķu autoru zinātniskos sasniegumus, salīdzināt situāciju pasaulē, izgūt pārskatus, atrast jaunas sadarbības iespējas, kā arī izmantot datu vizualizācijas iespējas. (Plašāk par InCites lasīt šeit).
Prezentācija pieejama šeit.
Kompānijas Clarivate Analytics pētniecības platforma Web of Science LU akadēmiskajam, zinātniskajam un administratīvajam personālam nodrošina vienotu piekļuvi informācijai par publikācijām nozīmīgākajos zinātniskajos žurnālos un to citēšanu, kas ļauj izvērtēt publikāciju autoru zinātniskos sasniegumus.
LU Bibliotēkas darbinieku vadītas nodarbības vai konsultācijas par platformas Web of Science iespējām var pieteikt šeit.
Kontaktinformācija:
Gita Rozenberga
LU Bibliotēka
Tālr.: 67551286
E-pasts: gita.rozenberga@lu.lv